Freshly Made Donuts in Des Moines, IA
ChuChu Donuts is where you can customize your donuts with different kinds of cream or jelly. Come and see a wide selection of soft, moist, fluffy raised and cake donuts made fresh every day from scratch. ChuChu Donuts welcome all ages. Seriously, No Nuts!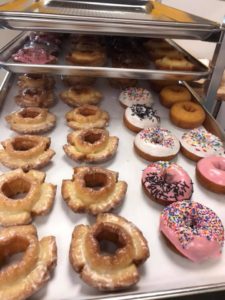 Our donuts are made fresh in the morning, guaranteeing delicious, fluffy, and soft donuts to start off your day.
Choose from Bavarian Crème, Chocolate Fluffy, Vanilla Fluffy, Strawberry, Raspberry and Lemon filling -- ChuChu Donuts provides tasty options to take your donut to the next level. 
If you have peanut allergies, there's no need to worry! We do not use peanut products on any of our ingredients or toppings.
580 SW 9th St Suite 116, Des Moine, Iowa, 50309
OUR HOURS: 5:30 AM - 2:00 PM  Monday - Saturday
CLOSED: Sunday